Pot-O-Gold Rentals specializes in portable restroom rentals including porta potties, restroom trailers, shower trailers, and a variety of other sanitation solutions. Pot-O-Gold has been serving the Gulf South for over 30 years, and offer the best Porta Potty Rentals in Lafayette.
Portable Toilet and Restroom Trailer Rentals For Long-Term Projects and Short-Term Events.
We offer a wide variety of sanitation solutions for what ever your project or event requires. Are you building a house or running a construction site? Our Standard Porta Potty Rental is the perfect solution for you.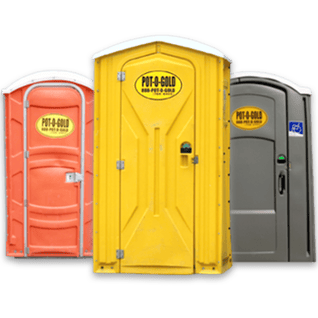 Weekly servicing is included in the price. Are you holding an event that lasts a weekend? Our Special Event Porta Potties are exactly what you are looking for. No delivery fee. No hassle. Will will deliver on Friday and pick up on Monday. Need it longer? Not a problem. Just let us know. Do your needs require more than a porta potty can provide? We offer restroom trailers in several different sizes to accommodate all kinds of needs. Our restroom trailers provide you with private stalls, hot running water, and more. Is the job a bit dirty? We also offer Shower Trailers to keep your employees clean on the job. Nobody likes to be covered in 'ick' all day.
How Much Do Porta Potty Rentals in Lafayette Cost?
To answer this question quickly, our porta potties start the initial cost of $122.85 + tax every 28 days. This includes delivery fee, etc. There are several factors at play when it comes to pricing our portable toilets and it's not a very easy answer to give.
Delivery costs – These can change depending on how far away the delivery location is from our base of operation.
Fuel Charges – Accounting for the cost of fuel.
Service Frequency – A large factor in your price is how frequent you want your porta potties serviced during your rental term
Rental Term – How long you keep your toilets.
Extras – If you add certain options to your rental like in-unit hand sanitizer, etc.
Most companies wrap up all these fees in the cost of the unit, but we value transparency. We give you a complete breakdown of everything your dollars are going towards.
Everything We Offer
Standard Porta Potty Rental
Special Event Porta Potty Rental
ADA Porta Potty Rental
Porta Potty Rental with Crane Hook
Hand Wash Stations
Restroom Trailers
Shower Trailers
Holding Tanks